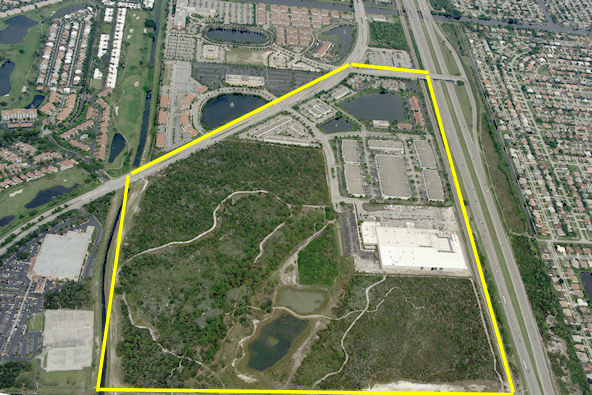 Boca Commerce Center is a 327-acre Business Park located at the Southwest Quadrant of I-95 at the Congress Avenue (NW 82nd Street) Interchange in Boca Raton,  just south of the Boca-Delray line.  The Congress Interchange provides arguably the easiest on-off access to I-95 of any interchange in Palm Beach County.  Travel times to Downtown Fort Lauderdale and Downtown West Palm Beach are less than one half hour and it is about 50 minutes to Downtown Miami.
Boca Commerce Center provides prime office space and warehouse space.  The six-building 386,000 square foot Boca Industrial Park is the the city's largest and is home to regional and national tenants as well as the Boca Ballet.
The Preserve at 7700 Congress is a three-building office campus targeting primarily local financial, technology, legal and financial firms. One Boca Commerce Center is a newly renovated 2-story lakefront office. The 543 Building is another two-story office/warehouse building on one of the park's two lakes.  7800 Congress is another 2-story office building that features full generator backup.
The Park also features two suite hotels, The Homestead Village and The Marriott Residence Inn.  Both target corporate travelers and are perfect for guests of the park's corporate tenants.
Also in the Park is U.S. Foodservices,  which recently expanded it's distribution facility to 370,000 square feet. The company offers more than 43,000 national, private label and signature brand items and an array of services to its more than 250,000 customers.
The Boca Commerce Center Association is managed by Danburg Management Corporation.